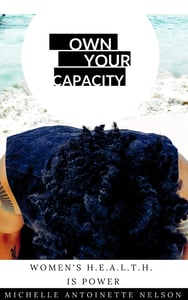 $

20.00
Your capacity is your currency. Whose dreams are you funding?
Our H.E.A.L.T.H. is our power and getting to optimal health is recognizing our capacity, what we can do and how much we can handle, and then capitalizing on it. It is far easier to reach our goals when we operate from a place of abundance and not from a place of deficit. Once we realize that all of the things we are doing that may seem overwhelming and like they take away from our ability to be healthy, are actually assets to us and to our productivity levels we can truly capitalize on them for ourselves.
This book is a tool-kit to get to your power. Order a copy and be on your way to a stronger mind, heart, and body!